How To Program Philips Universal Remote In 1 Minute [2023]
Here, you will find what I did to program Philips universal remote control to the TV or soundbar in less than 30 seconds. You can follow the exact steps to pair your remote to the desired device easily.
Universal remote control by Philips works best with Samsung, Vizio, Hisense, TCL, Sony, RCA, Panasonic, Roku, Apple TV, and many other TV brands. Earlier, we shared over 1000+ Philips universal remote codes for TVs, soundbars, Blu-ray, DVD, and streaming players. These codes allow you to set up your remote to your favorite device quickly. We advise you to get 4 devices Philips remote.
How To Program Philips Universal Remote In 1 Minute [2023]
Here is a step-by-step guide to pairing a universal remote with codes to any video and audio device. Before proceeding, make sure you note down the device code.
NOTE: Support us and help other readers by posting a comment about which method worked best for you. Thank you!
Unbox the remote and install two battery cells.
Switch ON your TV/Soundbar/Home Theater/Blu-Ray manually.
Direct the remote toward your device.
Press and hold the "Setup/Code Search" button, and wait till the red indicator light turns ON. Release the button when the light starts glowing.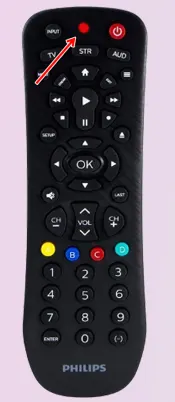 Next, press and release the device button on the remote. Here we are assuming you are programming a television, so press the TV button.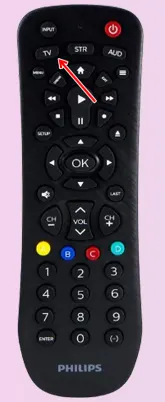 Now, look for the code in the user manual or in the list that we shared.
Enter the code using the remote's numeric keypad. Upon entering the code, the remote light will turn OFF.
It is time to test the functions of the remote. Starting with Power ON/OFF, then test changing channels, and then volume +/-.
We hope your remote will work perfectly with your TV, soundbar, Roku, firestick, Vizio, and streaming players. If the Philips remote functions are not working, then you should repeat the above procedure with a different code for programming.
Programming Remote With Direct Code Entry Method
Pairing a Philips remote to popular TV brands like Sony, Samsung, LG, Panasonic, Philips, Vizio, Toshiba, Element, etc. is easier. You don't have to perform complex programming steps. Here's what you need to do.
Open the Philips remote user manual
Note down the code of your device
Switch On your television
Grab the remote and enter the code
Your remote is programmed with your TV.
Pairing Philips Remote To TV Without Code
If you are unable to set up your remote with the method given above, follow this guide to program Philips universal remote without code.
Press the Power button on your TV to switch it ON.
Grab your Philips universal remote control and hold the SETUP button and wait until remote lights turn Red.
Next, press and release the TV button on the Philips remote.
Aim the remote towards your TV and press the Power button. The Philips replacement remote will begin searching for a code.
Repeat Step 4 after every 5 seconds until your TV switches OFF.
When your TV turns OFF, immediately press the TV key on the remote to store the code.
You have set up your Philips remote without code. Now turn ON your television and press all the keys one by one to test the functions of the remote. I hope you will not face any problems in controlling your device.
With a Philips remote, you can control up to 4 devices at a time. However, you have to pair it first. To help you in programming, I have shared the exact steps we followed to connect the Philips remote with codes. Also, check out Philips Soundbar universal remote codes.
Final Words
We hope with the above-mentioned guide, you won't face any trouble in programming the Philips universal remote control via the direct code entry method. The only thing you need to take care of is the selection of the right 3- or 4-digit codes. After pairing, you will be able to control all the functions of your device. Give it a try, and don't forget to share your feedback if you face any problems, let us know.