How To Program RCA Universal Remote To Vizio TV?
Want to program RCA universal remote to Vizio TV? That's exactly what we did to pair our RCA remote with a Vizio television a month ago.
Just purchase RCA universal remote as a replacement for your original Vizio remote. And now you want to program it on your television set. Don't worry; we will share the easiest methods of all. Our self-test method lets you easily set up your remote in less than a minute.
Earlier, we shared the RCA remote codes for Vizio TV; you will need that in this process. You can also pair your soundbar and streaming player from Vizio TV if you have an RCA 3-in-1 remote. It will let you control all the devices with one remote.
How To Program RCA Universal Remote To Vizio TV?

First, we will share the easiest method to program RCA universal remote, which is pairing with codes. Let's get started:
Insert a fresh pair of batteries in the remote and switch ON your TV.
Aim the remote towards the TV and hold the "TV" button for approx. 5-7 seconds.
When the RCA remote light turns ON, release the button. This means your remote is ready to be programmed.
Enter the RCA remote code for Vizio smart TV using the numeric keys.
After entering the code, check the small light. If the light is OFF, your remote is paired to the TV, and if it blinks multiple times and again turns ON, it means the code doesn't match.
Repeat the process, and this time, enter a different code.
Pairing RCA Remote to Vizio Smart TV Without Codes
If you fail to connect your remote to Vizio TV with codes, you must try this method. This technique doesn't require you to enter a code. Instead, it automatically searches for a code and applies it. Let's get straight to the instructions: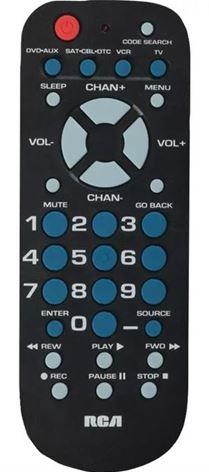 Switch ON your Vizio television.
Direct the remote towards the TV and hold the Code Search button. If your remote doesn't have a code search button, then hold the TV + Power button.
Release the button when remote's LED light starts glowing.
Now, press and release the Power or Play button on the remote. The light will start blinking and then stop.
Repeat the above step until your TV switches OFF. Turning off Vizio TV means a connection has been successfully established. You can use the remote now.
You can program RCA 3 and 4 devices, universal remotes with the above-shared methods. Furthermore, you can follow the same steps to set the remote to DVD, Blu-Ray, soundbar, and streaming players.
If your RCA remote is already programmed to any other TV, then you must reset your RCA remote before pairing it with Vizio TV.
FAQs
What are the codes for an RCA universal remote for a Vizio TV?
The RCA remote codes for Vizio televisions are – 502, 004, 079, 3145, 1758, 0885, 10120, 10885, and 13758. You can find the complete code list here.
Where can I purchase an RCA universal remote control?
You can buy an RCA universal remote from the RCA's official website or Amazon.
Why am I unable to pair RCA universal remote to Vizio TV?
If you are unable to program RCA universal remote to Vizio television. In that case, this can be a reason: you are entering an incorrect code, your remote is incompatible with the Vizio TV model, or a battery issue.
Final Words
You need to follow these simple steps to program RCA universal remote to Vizio TV. Once you have followed all these steps, you can easily use your remote control. We tested both methods and confirmed you can easily program your remote with the shared guides. If you have any questions or need assistance, write to us in the comments.