Logitech Harmony 650 Remote Programming To Any Device
Learn quick ways to program Logitech Harmony 650 remote to any device using computer software or a mobile application.
Tired of switching between remotes to operate different devices?
Logitech harmony 650 is here to solve this problem.
It is an all-in-one remote that replaces up to 8 remotes and controls all the devices with a single tap.
When it comes to the Logitech remote 650 device list you can program it to 270,000 devices from 10,000+ brands.
To facilitate you, Remote Codes Portal has shared step-by-step instructions.
Quick Way To Program Logitech Harmony 650 Remote
Setting up your Logitech 650 remote is very easy. You can follow the below steps to set up your remote.
After successfully configuring your remote, you can start using it to operate devices. You can perform multiple operations just at the tap of a button.
Step 1: Open the web browser on your Windows or Mac device
Step 2: Go to this URL: https://setup.myharmony.com/ to download the Logitech harmony software.
Step 3: Download the software to your windows computer or Mac system.
Step 4: Next, launch the downloaded file and follow the on-screen instructions to install the application on your system.
Step 5: After installation, sign-up for an account and log in to the application using that account.
Step 6: From the main menu click on the "Add a Remote" button.
Step 7: You will see a welcome screen. Click the "Next" button and then click on "New Setup".
Step 8: Type the device manufacturer name i.e Sony, Samsung, LG, Vizio, Roku, etc. and enter the device model number, and click the "Add" button.
You can add up to 8 devices at a time. It can be a TV, DVD, Soundbar, Blu-Ray, etc.
Step 9: After adding all the desired devices, click "Done".
You are done with setting up your remote.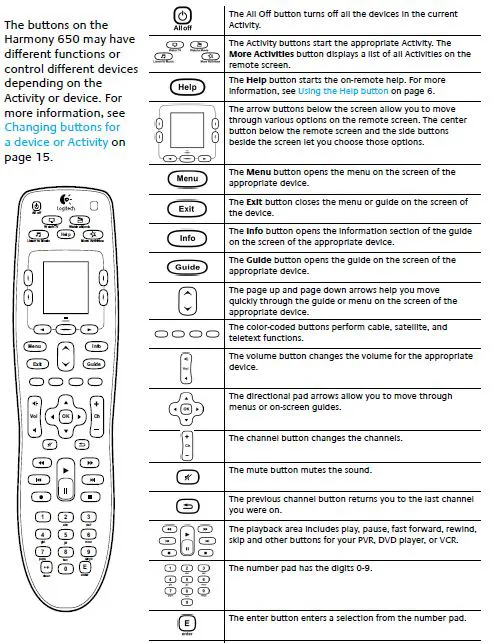 Whether you are a new user or an expert you can take help from this Harmony remote 650 programming guide.
Setting-Up Logitech 650 Universal Remote Activities
After setting up the Logitech harmony on one remote, next, you have to set up the activities that you want to perform with the remote control. Follow the below-given instructions to program the Logitech harmony remote activities.
Step 1: Click on the "Add Activity" button to begin setting activities that you want to control with a remote.
Step 2: First, select the devices that you want to turn ON when you press the "Power" button and click "Next".
Step 3: If you have multiple sound output devices, you can choose one of them for volume.
Between TV and Soundbar, you can select one device. After choosing one click "Next".
Step 4: Now, select the input that you want for the TV and Soundbar i.e, TV, AV, HDMI 1, HDMI 2, etc., and click next.
Step 5: After adding all the activities click on "Done" twice to move on to the next step.
Step 6: On the next screen, click "Sync" and choose the default remote language.
Step 7: Once the synchronization is complete, hit the "Finish" button to complete the process.
Now your Logitech harmony remote is ready to control your TV, Blu-Ray, X-Box, Soundbar, etc.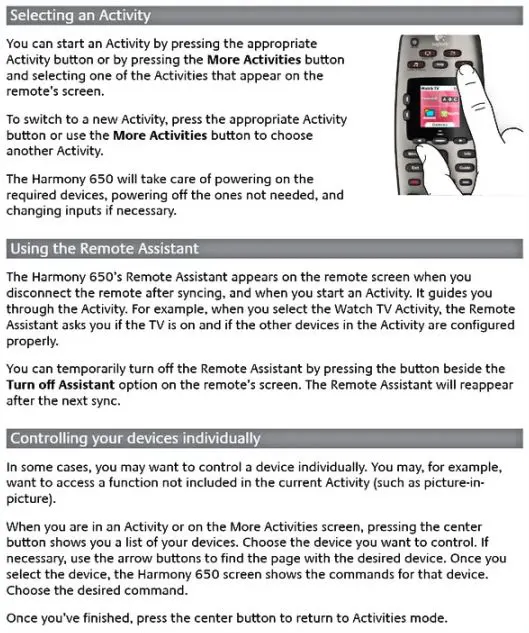 The interface of the remote is simple and you can easily program it. There are numerous codes available that you can use to program the universal remote. However, if you are using it for the first time it can become a little tricky. T
FAQs
Why Logitech Harmony 650 Remote is Good?
Logitech Harmony 650 universal remote control has the ability to control all the entertainment devices in your home. It is very easy to program and usage is also easy. Below are some important features of the remote:
It can be paired with more than 5000 brands of TV, DVD, Blu-Ray, and CBL.
Harmony 650 effectively works with older devices.
You can pair and control up to 8 different devices at a time.
Highly user-friendly interface with a small colored display which makes navigation easy.
Easy to program with different devices. Can also be programmed with TV, soundbar, CBL, and DVD with the help of online software.
How To Program Harmony 650 without a Computer?
If you want to program a Logitech 650 remote without a computer, you must have a Harmony Hub. Below are the instructions to program the Harmony remote without a PC or Mac.
Go to https://support.myharmony.com/en-id/download and download the Harmony mobile application.
Launch the app on your Android or iOS mobile and connect it to your Harmony Hub.
From the main menu choose Harmony Setup.
Next select Add/Edit Devices jump to Activities and pick Devices.
Tap on Add Devices options given at the bottom.
Enter the maker name and model number of the device to add it to the remote database.
Once added, follow the on-screen instructions, at the end of which you will be able to control your device with the Harmony remote.
How many devices can Harmony 650 control?
You can control up to 8 devices with Harmony 650 remote. The remote is compatible with 270,000 devices from 6,000+ brands. But first, you have to program it using Harmony PC software or mobile.
How do I reset my Logitech Harmony 650 remote?
Resetting Logitech 650 harmony remote to default settings is very easy. Here are the steps:
Hold the "Menu" and the "Off" button together for approx. 20 seconds to restart the remote.
The remote will restart and display an image of a remote and a circular arrow.
This process will factory reset Logitech harmony remote and restore it to default settings. After that, you have to add devices and set their activities from scratch.
What is the difference between Logitech 650 and 665?
Here are some key differences when we compare Logitech Harmony 665 Vs. 650:
| | | |
| --- | --- | --- |
| Feature | Logitech Harmony 665 | Logitech Harmony 650 |
| Technology | Infrared | Radio Frequency |
| Status | Active | Active |
| Device Control Limit | 10 | 8 |
| Number of Supported Devices | 275,000 | 250,000 |
| Color | Black | Grey |
| Color Screen | Yes | Yes |
| Backlit Buttons | Yes | Yes |
| Maximum Range | 10 meters | 08 meters |
| Harmony Activities | Yes | Yes |
| Favorite Channels | 23 | 23 |
| Batteries | 2 AA | 2 AA |
How do I change the input on my Harmony 650 remote?
To change the input of your device you need to access Harmony software or mobile application. Choose the device for which you want to change the input and edit its settings. Once you are done with the changes again sync the device to update the settings.
How do I sync my Harmony 650 remote?
The easiest way to sync Harmony 650 is by using its mobile application or PC software. Launch the application, SignUp, and SignIn to your account, add the devices and set their activities, and at the end click Sync Now.
Can Harmony 650 control PS4?
There is a restriction from Sony that doesn't allow any universal remote to control PlayStation 4. You will need Sony's own remote control to switch on the game console.
Does PS5 work with Harmony remote?
Yes, Harmony's latest remote controls are capable of controlling the Sony Playstation 5. You can switch on the game and control the media as well using the Harmony remote.
Is Harmony 650 IR or RF?
Logitech Harmony 650 uses radio frequency technology to establish a connection with any device.
Does Harmony 650 have Bluetooth or WiFi?
No, Logitech 650 harmony remote doesn't have Bluetooth and WiFi. For connectivity, it uses Radio Frequency technology. And to program it to any TV, DVD, or sound bar you need to download its software or mobile application.
Does The Harmony Remote Work With Roku Streaming Stick?
Yes, Harmony Hub-based remotes have WiFi which makes them capable to work with Roku Streaming Stick. You can connect Roku to Harmony 650 remote by following the above-given instructions.
Final Words
Once Logitech Harmony 650 universal remote is programmed, it can perform multiple tasks with a single click. It reduces space, supports almost all brands, and can be easily operated. You can set it up in a little time and use it for controlling devices. The remote can be programmed by manual and code search methods. We have gathered all the workable ways to program it. You can try the codes in this Logitech Harmony 650 universal remote codes and programming guide to see what works for you.